ToolCamp with Audience Award at ReaktorX accelerator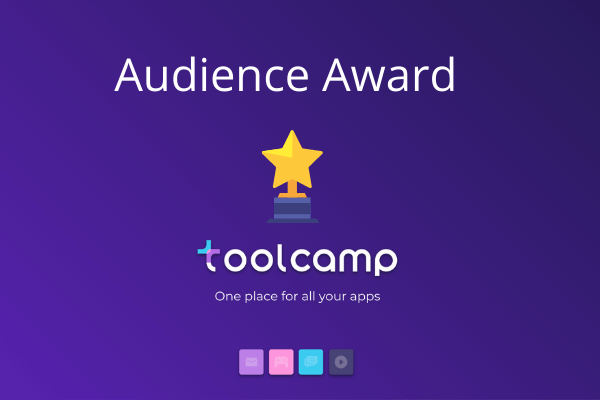 The end of January brought the final of the ReaktorX accelerator program and Audience Award on the Demo Day for ToolCamp. We are proud and happy that the audience with VC representatives welcomed our idea so enthusiastically. This proved we are on the right path to achieve our goal and develop our platform.
Our journey with ReaktorX
We joined ReaktorX 3 months ago, the same day we started the Web Summit experience in Lisbon (more about it in WEBSUMMIT post). This time, as a result of the pandemic, we were able to get through the program remotely, as the organizers decided to run the 10th batch online. This model was convenient to us also because most of our team members join work in ToolCamp with other occupations. That is why we know how online solutions can help people with achieving better productivity at work performed on a computer.
What acceleration can give you?
Some of you probably are thinking about opening a startup or are interested in how exactly an acceleration program can help new projects. ReaktorX is a Polish accelerator supported by SMOK Venture Fund and its cofounders Diana Koziarska and Borys Musielak. Their main mission is to help founders grow their businesses from the pre-seed level and become the best startup not only in Poland, but also in the CEE region and globally. Thanks to Ula Starakiewicz-Krawczyk, Karolina Wilk-Tryjanowska and Agata Kwaśniewska we went smoothly through this journey and graduated from the 10th edition.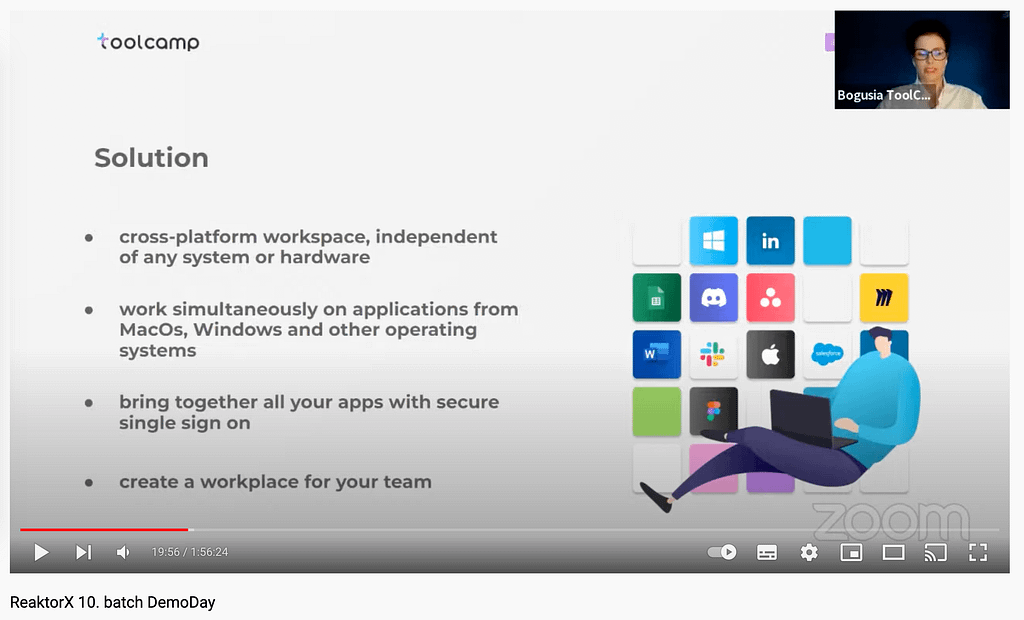 Powerful mentoring
The most important parts of the accelerator for us were workshops and online one-on-one meetings with mentors. We have participated in 30 events with 28 mentors and experts from various fields:
building great products presented by Sargheve Sukumaran, Agnieszka Lewandowska, Krzysztof Urbanski and Peter Tuszynski

planning and execution with Zoltan A. Vardy and Paul Webster

hiring and managing teams with Róża Szafranek, Dorota Rymaszewska and Robert Kowalski

PR sessions by John Biggs and Marcin Sierant, personal branding with Natalia Florek

networking with Gaia Arzilli

legal issues withIzabela Świstak, Kancelaria Snażyk Mordaka

financial planning, accounting and taxes run byTomasz Bednarski, Anna Magiera, Finance PM and Dariusz Landsberg, FCCA from Genprox

pitching good practices by Adam Zadrożny, Magdalena Balcerzak and Ula Starakiewicz-Krawczyk

VC perspective by Michal Mroczkowski,- Market One Capital, Krzysztof Przybylak, Inovo Venture Partners and Borys Musielak, SMOK Ventures

crowdfunding by Marcel Rowinski and Jakub Gawroński

VC backed startup perspective by Oskar Kiwic and Jakub Lewandowski
This was a great experience and we really appreciate your time dedicated to us.
ToolCamp leading mentor
Here we would like to thank for all the inspiring calls at 8 am on Mondays and 8 pm on Fridays to our leading mentor Uldis Leiterts. His experience was a perfect match for us, we heard what we needed to hear and what is more, it was given with an ironic sense of humor, which we truly love.
Additional greetings as well here for Zotlan Vardy, Paul Webster, Anna Magiera, Marek Blisko, Tomasz Bednarski, Greg Albrecht, Paweł Zylm, Tanya Aulachynskaya, Michał Turski, Michał Mroczkowski, Adrian Sroka and Cezary Dziugieł for 1-to-1 sessions and all insights on the ToolCamp project. To all ReaktorX workshop's mentors: thank you for all the knowledge and support.
Inspiring startups
Last but not least, we could have learnt from other startup founders we have been building relations since the first day of acceleration. Congratulations are in order for the Demo Day winners and all projects that made it through this intense time in the program. Thank you all, iIt was great to meet you.
– DonateWise -once again congratulations for winning Demo Day. Your professionalism was inspiring, keep going and do not let go.
– Sungurt – Kasia we truly believe in your sunflower based yoghurt. Be the best alternative to dairy and soy!.
– Mu6label – years ago we only heard about plastic guitar picks helping playing guitar. Now so many gadgets can be replaced by your guitar 'snake'. Make a great kick start of your product.
– Dodo RM – let's nourish our relationship in your app.
– Dragon Seat -Adrian we think a strong focus on personalization can take your cooling chair into the gaming community much faster. Stay cool – literally and figuratively!
– Thrive – the future needs strong women and supportive solutions to help them conquer the world.
– Ranking Szkół – Robert we seriously believe in your product in other markets. Go global!
– StoryMaze – you can become a game changer for the SexTech industry in terms of perception, still as well something very interesting for the audiobook's industry.
Let's continue our start-up journey!