MS Paint for Mac: How to run Paint on a MacBook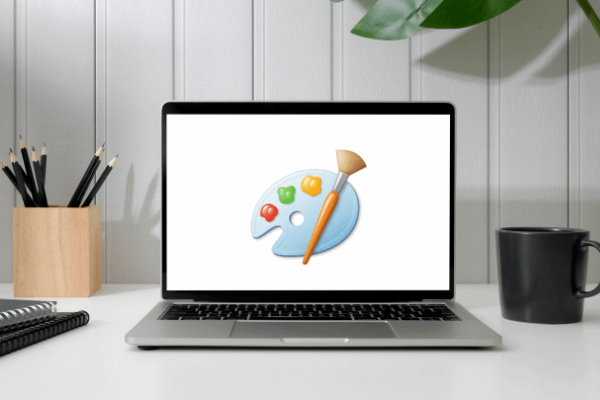 If you're reading this, chances are you recently switched from PC to a Mac – and if there is one app that you wish was available on Mac, it would have to be Microsoft Paint. Most old-school PC users grew up doodling in MS Paint, so it makes no wonder they'd like to keep it on their MacBooks.
It may be slow and it may lack in functions, and it's not even that easy to use for beginners, but it was simple, it was fun, and it was all we had at the time. Even if for the nostalgia alone, a lot of former PC users wish there was MS Paint for Mac.

Source: https://logos.fandom.com/wiki/Microsoft_Paint
Well, unfortunately, there is no official support for the Paint app on Mac. There are, however, alternative ways to still use the beloved graphic app on Mac, including its memorable Windows 95 version.
Running MS Paint on Mac: trying out similar apps
If you're okay with an experience that's similar to Paint for Mac, but also a bit more up-to-date for modern standards in most cases, you can try out one of the apps that offer an interface that is true to the original Paint design. We know it's not the same, but it could work in a pinch.
The quickest way to run Paint on Mac is to use one of the many web-based applications that can be easily opened with a Mac, that simulate the original Windows 95 Paint experience. These are based on JavaScript and perform surprisingly well. They even work on iPhones and Android, but might be a little difficult to use on such small displays – the UI hasn't really been designed with them in mind.
There's also a Google Chrome plugin that gives you quick access to Microsoft Paint on Mac, but be careful when using third-party software that's not been proven to be safe – better to be safe than sorry.

Using Preview to simulate Paint for Mac
There are various copycats of MS Paint for Mac, but you're better off not trusting those – they often perform poorly and are riddled with ads. If anything, use the native Preview app – it offers most of the same features as Paint which can be accessed by clicking the Markup button on top.
If you've ever used Microsoft Paint before, or any other image editing software for that matter, the interface should be pretty self-explanatory to you. There are the standard selection tools that change your cursor mode, insert shape and editing tools, as well as style and colour control. It's easy to use and should be enough for most basic image editing needs – but it's still not the same, is it?
How to get the real Paint app for Mac – Wine and virtual machines
If you want to get the most truthful experience, setting up a virtual machine on your Mac is one of the ways to do it – if you're ready to go through a lengthy and quite complicated process. A virtual machine can allow you to simulate a Windows environment on your Mac (you need a licensed Windows copy for this), and with it MS Paint.
However, if you're not prepared to go through all this, Wine HQ might offer an easier solution. Wine HQ works in a similar way – it allows you to use Microsoft applications on Mac, and while it still takes a little time to set up, it's much simpler than creating your own virtual machine and doesn't require a Windows license.
All the hard work might be worth it though – after all, you get access to the real MS Paint on Mac in all of its clunky beauty. But what if there was an easier way?
Opening MSPaint in ToolCamp
If installing all of that still looks like too much work to you, ToolCamp gives you the ability to use the original MS Paint right from your browser – regardless of the system or device you use. All you have to do is sign up for a free account to gain quick access to the good old MS Paint on Mac without all the hassle – on top of all the other functionalities it gives you.