Keeping Productive While Working Remotely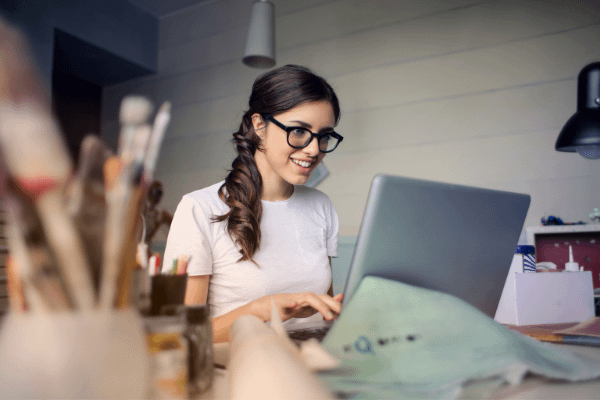 When it comes to staff working from home, productivity and performance are two priorities for many employers. No matter the size of your business, you'll undoubtedly want to get the most out of your working day – and what better way to understand how to do this than by preparing yourself (and your employees) to maximise their output from the comfort of their own home?
Almost every second employee works remotely
If there's one activity that's seen a huge increase in demand since Covid-19 reared its ugly head, it's remote working. According to a recent survey by Statista, only 17% of people in the United States worked from home for more than 5 days per week, pre-Covid.
And since the Coronavirus was termed a global pandemic? Well, this number has almost tripled, with just under 45% now working from home and more individuals keen to do so in the future. With Europe, Asia, Australia and Africa following suit, it's been estimated that well over a billion people could be working from home by the end of 2021.
Although this option has made life easier for countless professionals across the globe with access to the same online systems and networks as they'd have at work; one hurdle that employers are finding is just how to keep their staff productive and enthusiastic. As beneficial as being at home can be when considering the safety in the fight against the Coronavirus, being outside of the office can certainly lead to a slump in performance.
What Makes a Good Work Environment?
Generally speaking, a physical work environment should cater to an employee and their requirements. Desktop applications will typically be fluid and functional in an office, ensuring easy access for staff, with many employers offering all in one solutions to those in need of closer networking across different departments and branches. The better the connectivity, the higher the chances of efficiency and performance.
How is This Situation Exacerbated by Home Working?
At home, not everyone will have a dedicated office. Those that do will still find the comforts of home just beyond their sofa or desk and as a result, concentration can be reduced. Fortunately, there are ways for employers to moderate these concerns by promoting a more well-rounded virtual working environment.
Useful tools for remote work
There's a multitude of applications that can be installed that offer a variety of features to both employers and their personnel, including the option to:
Track time spent working, which can be done using apps such as Harvest or Timecamp, as this software makes it easy to digitally 'clock in' to a workplace with minimal fuss and no risk of tampering.
Record screenshots of monitors, which is ideal when using software such as WebWork – a program that allows a timer to be set to capture a view of an employee's screen to ensure they are working as intended.
Connect workmates via third-party tools, including Slack, Twist, or Microsoft Teams; all of which allow admins to be assigned, members to be added, chatting to take place and many more features to create a digital workplace instead of a physical one.
One of the most appealing things about setting up a work-from-home environment for a business is the ability to pick and choose which applications are paired with specific pieces of software. Let's imagine for a moment that you love the idea of talking face to face. In this scenario, Zoom could be the answer. When it comes to planning projects and communicating textually however, apps like Slack or Microsoft Teams can help to keep everyone involved seamlessly. With apps like Zoom, Mylio, Slack and other performance-related pieces of software available; it's now easier than ever to enjoy the opportunity to work from home, without productivity suffering in the process.
Learn More Today by Following Our Social Media
Keen to learn more about maximising the productivity of your workplace, be it at home or in the office?
Why not follow us on social media today to keep up to date with the latest techniques and pieces of advice?