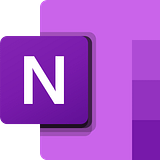 Microsoft Corporation
Documents
Use
FREE
OneNote
If you're looking for a simple yet effective note-taking tool, you're likely to find that Microsoft OneNote will be an excellent selection. This cloud-based software is popular for quite a few reasons; from its range of useful tools, to the intuitive interface.
OneNote has been a big name for quite some time and has only improved upon its already great features as the years have gone by. Developers have focused on user-friendliness, aesthetics and overall efficiency – and features such as the Immersive Reader tool to hear your notes out loud have really elevated it beyond the competition.
Users will find OneNote to be a reliable tool for taking notes and organising thoughts, whether it's making a to-do list or just jotting down something important so that you won't forget it later. You can also get Microsoft OneNote for free and it's available on a range of platforms.