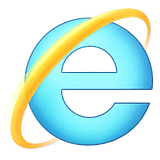 Microsoft Corporation
Browsers
Use
FREE
Internet Explorer
Internet Explorer was not only one of the original web browsers to feature on the internet, but it was the most popular, too. It held the top spot for users worldwide for over two decades before being overtaken by Google Chrome. Also known as IE or MSIE, it is simple yet effective for all of your web browsing needs.
With each instalment in the Internet Explorer series, users have enjoyed a whole host of major improvements. For example, upgrade IE 9 saw an increase in simple design elements and a more appealing aesthetic. Small changes like combining the address bar and search box made for smoother, faster use.
The latest versions of Internet Explorer aim to provide greater security, better performance and much more. You can even use the legacy versions on Microsoft Edge, thanks to its in-built IE mode capabilities.